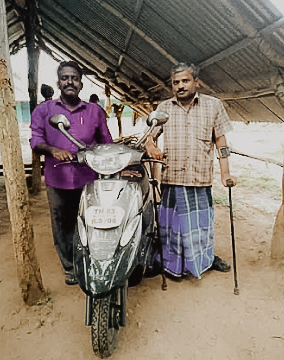 A
scooter

and a helping hand.
Beep beep! Watch out, Vaikunthan is coming through on his brand new scooter! He sits in splendor atop his two-wheeler, the sun reflecting off the shiny black steel, his hands gripping the handlebars that give him control of his journey. He weaves in and out of traffic as he rolls along the road in the Jawadhu Hills region in southern India. Vaikunthan is on his way to the wholesale market to buy some goods in bulk that he can turn around and sell in his small provision store that he runs in front of his home.
It's a blessing that Vaikunthan can visit the market on his own, able to make his own business decisions about what to purchase, and then get it back to his own store on his own time. Vaikunthan hasn't always been able to do this by himself.
A few years ago, Vaikunthan was collecting jackfruit to sell in his store. He climbed a tree to cut the fruit from the branches. While he was up in the tree, he lost his balance and fell. He endured fractures in both legs and severe nerve damage in both feet, losing all sensitivity in the lower portion of his legs. This accident resulted in a permanent handicap, leaving Vaikunthan unable to walk.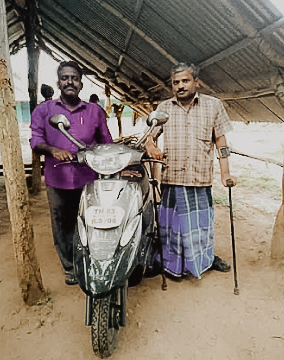 Because of this accident, Vaikunthan had to rely on others to go to the market for him so he could keep his provision store open. It was far too great of a distance for him to walk. While it was wonderful that people were helping him out, they saw it as an opportunity for their own gain as well. Vaikunthan would repeatedly get cheated during these business exchanges, with people taking advantage of his inability to watch what they may do with the product after purchasing it at the wholesale market and before delivering it (or just some of it) back to Vaikunthan for his store.
One day, Vaikunthan had a customer visit and shop at his store. Throughout his time shopping, Vaikunthan and Mr. Velu, the customer, got to talking. Mr. Velu heard about Vaikunthan's accident, disability, and difficulties with getting goods for his store. Mr. Velu, a coordinator with The Hope Venture in Jawadhu Hills, was moved and wanted to help Vaikunthan find a solution. The Hope Venture has a project establishing community development centers in Jawadhu Hills, aiming to support the community, helping with needs that arise, and Mr. Velu takes part in aiding the community through that. Mr. Velu researched and figured out the process for getting a free vehicle through the government in their community. Mr. Velu helped Vaikunthan apply for the vehicle, and after a year, they were able to go get a two-wheeler together.
Now Vaikunthan has a way to get around efficiently on his own. He can purchase goods for his store, allowing him to stay in control of his business and maximize his income. Every time he scoots around town, he can remember the provision he received that now gives him independence in his mobility.